Residential
services and solutions
Committed to our communities
Regional Industries is proud to be the contracted hauler for many different townships throughout New Jersey. Please use the links below for information about waste collection for your particular town. If you need any help at all with your particular town, please feel free to contact us or speak with our helpful staff at 908.436.1966.
We know that providing you with responsible waste management services has a direct impact on your neighborhood. We have always sought to better the quality of life of New Jersey residents by providing curbside waste collection that's both professional and dependable.

By offering you a wide range of waste management solutions, along with fuel-efficient, low-emission vehicles and a highly trained staff that's both professional and respectful; we know we can both strengthen and preserve the communities in which we all live.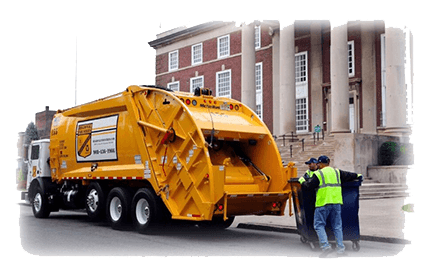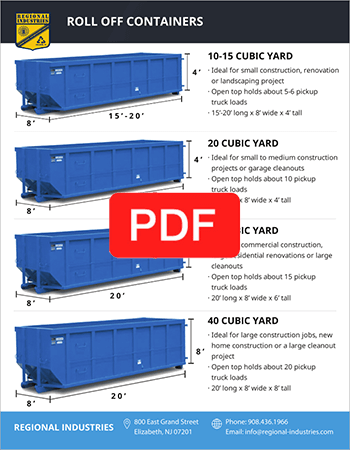 Roll-off/Dumpster services for every project
Looking for a roll-off container? Regardless of what you're cleaning out, we have just the container to meet your disposal needs. All you have to do is load it, we'll take care of the rest!
We've listed some of the most common sizes used for home cleaning, remodeling, and construction projects. The sizes vary slightly from container to container so the dimensions are approximate. If you have any questions at all about which one is right for you or would like to schedule a dumpster rental, please contact us online or call us at 908.436.1966 to speak with a specialist.
More than + satisfied residential customers throughout New Jersey

At Regional Industries, we take great pride in providing residential customers with refuse, yard waste and recycling collection services. We believe in smarter waste solutions and we're here to prove that with our commitment to providing you with reliable service, safety and professionalism from our team of experts. It's a team effort to keep our communities clean, and we strive to work with you to provide the best service for your community.
Let us be your partner in waste management...
We offer personal customer care, with professionalism & a responsibility to our environment
Start here
What our customers are saying about us...

Regional Industries, and specifically Marc Spallino, has exceeded our expectations with respect to disposal services. The company is responsive, professional, punctual and efficient at the service they provide. Having switched over from a larger, nationwide company, I can truly say that the service I receive with Regional Industries is far superior to any other disposal company I have worked with in the last 2 decades. I would highly recommend their services to anyone looking for a seamless disposal company. Looking forward to a long lasting business relationship.

I have used all the other big names in the waste management industry and Regional Industries by far surpasses any other company out there. From sales to service right down to the individual workers, their dedication to making this aspect of my job easy is clearly their first priority. Being in the hospitality industry myself, it is obvious to me how much effort and pride goes into their work from each and every employee. I would recommend utilizing the services Regional Industries offers to anyone who desires top quality service for a very fair price.

Our company has been working with Regional Industries for over 6 years. We cannot be happier with their customer service. We just wish we switched to them sooner!

We have used the services of Regional Industries for trash removal services for over 15 years at four of the condominium properties that we manage. Their service has been outstanding and they are a pleasure with whom to work. Our company recommends them highly.
I highly recommend Regional Industries for your dumpster needs. They are quick to respond when I need a container for a job site and really seem to understand my needs and issues I face.
I called into Regional Industries when I was cleaning out my grandmother's house. I explained what I had to get rid of and the type of work we were doing. They sent a sales representative out that same day to take a look at everything and recommend a 20 yard dumpster. It could not have worked out any smoother. Thank You!